2021-later Sportster S Front LED Turn Signals
Regular price
€239,00 EUR
Regular price
Sale price
€239,00 EUR
Unit price
per
Part number:
Translation missing: en.products.product.sku:SPS-FTS
Unique style and perfection separate our new line of parts for the New Sportster S model from other manufacturers. Those black anodized turn signals are our different vision of how turn signals should look and perform on modern bikes. Thanks to new technologies and CNC machines, we can make those turn signals flow into the same design as the whole bike and make it invisible until it performs. It is a true bolt-on, plug-in piece that can be ordered with or without the DRL Running Lights function. All necessary wiring harnesses and connectors are provided with the kit, so you do not need to add anything else.
Lights holds ECE approval and possesses comprehensive legal documentation, affirming its suitability for road use, assuring safety, and compliance with regulatory standards. Drive confidently with peace of mind.
Regular price
€239,00 EUR
Regular price
Sale price
€239,00 EUR
Unit price
per
+ shipping to United States
In stock and ready to ship
Check Fitment Before Painting and Final Assembly
How to Install
Bike customization is really fun. Here we walk you through essential steps to mounting new parts on your motorcycle.
Mounting Instructions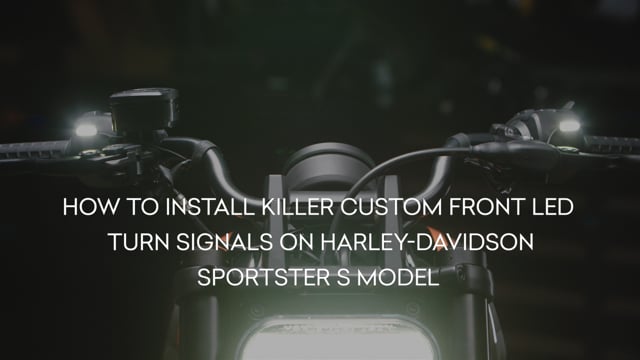 Unfortunately, we do not offer such an option at the moment.
Well, our online store is always in sync with the warehouse. You can't purchase the item if it is labeled with the "out of stock" sign; if it says in stock, it means the part is available for buying now.
Some of the items are certified by TÜV Austria, and those parts are proudly labeled with the TÜV sign. If you do not find anything similar on the product page, think we are currently working on the certification process.
Yes, we do have. Visit the Product Sheet & Durability section on the product page. You are free to download them at any time.
Our warehouse is located in Lithuania, Europe. And we ship worldwide (U.S., Canada, Japan, Australia, etc.). So, no worries! If you are in the mood to build a one-of-a-kind motorcycle, we can ship custom parts right to your doorstep.
Shipping rates and times may vary depending on the delivery address for your order:
Australia 4-6 working days
Canada 2-3 working days
Europe 3-4 working days
Japan 3-4 working days
New Zealand 4-6 working days
South Korea 3-4 working days
U.S. 2-3 working days
Customs duties are taxes charged on imported goods. They vary widely across every country, and various rules and rates often apply to different types of products. You should contact your customs office to determine these additional costs.
International buyers, please note: we do not under-value or mark the item as a gift on customs forms, which is against U.S. and international laws.
We ship deliveries worldwide with UPS. All orders are processed from Europe in 2 business days and dispatched Monday – Friday.
Shipping rates and times may vary depending on the delivery address for your order:
Australia
4-6 working days
New Zealand
4-6 working days
South Korea
3-4 working days
Shipment confirmation and tracking number are sent when the parcel is on its way to you. See more details in the Shipping and return page.